---
ELEMENTI Eau de Parfum
Earth, Water, Air and Fire are the four natural and philosophical elements. Each one is unique and indispensable for life. The choice of a fragrance, irrespective of wheather meditated or instinctive, must be made on the basis of its personality as it reflects a style.
These fragrances come in brightly coloured glass atomized with golden swirls and crystal gems, all enclosed in elegant wooden or carton boxes.
Acqua 100 ML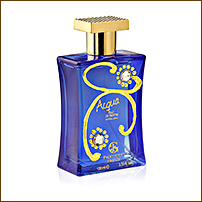 Acqua 100 ML
Since ancient times has been the basis of everything and symbolieses the origin of life. Consequently the variety of fruit notes of melon, pineapple, grapes, and green apple remind us of how their turgidity depends precisely on this element. The bottle as blue ad the deepest ocean evokes a sense of tranquillity as we breathe in the fragrance of roses and lilies in a garden with orchids glistening in a tropical rainfall.


Main fragrances of this collection: exotic fruity, peach, strawberry, melon, green apple, mandarin, floreal ireos, rose, lilly of valley, orchid, freesia, woody, cederwood, sandalwood, white musk, sweet floreal, pineapple, bergamon, lemon, gardenia, jasmin, woody ambery chypre, vanilla, amber, patchouly, fresh, apple, bergamot, lavander, spicy, pink peper, rosmarin, geranium, cyclamen, honey, fruity gourmand, coconut, floral, heliotrope, oriental wood and ambergris.
You may also like