---
SUNCYCLES Eau de Parfum
This collection, consisting of four unisex fragrances characterized by the complementarity and continuity of the various phases of the day, of men and women, and of life itself.
The gold decorations on the bottles – done by hand – represent two halves, two mirror-image curves that recall the diversity as well as the completeness and synergy that can only be achieved by the two together.
Morning 100 ML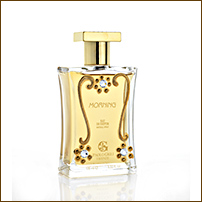 Morning 100 ML
This fragrance was developed for an active, energetic, busy man who draws his strength from his relationships with others, from nature and from sunlight that gives him his great determination. The impact of the apple and lemon imprint on the heart notes evoke the challenge that man accepts every day, while the intensity of rose and lily explain the goals and ideals he fights for. The base note, of agar wood and sandalwood reveal the intimate sensuality of the day that knows how to wait for the evening's sweet embrace.


Main fragrances of this collection: strawberry, orchid, carnation, woody tonka, cedarwood, raspberry, lime, peach, green note, mandarin, roses, geranium, vanilla, patchouli, lily of the valley, musk, white musk, cinnamon, apple, green apple, pinapple, bergamot, jasmine, geranium, plum, agarwood, sandalwood, saffron, ylang ylang, citrus fruit, floreal, floreal ireos, fruity, exotic fruity, melon, woody, carnation, freesia, and amber gris.
You may also like