THE RESEARCH AND MANUFACTURING
THE RESEARCH
Extensive research in fashion, knowledge of taste, and customer different personalities induced the company to match: mellow and floral fragrances with silver decorations, with hollow chiselled leaves and daisies in the sixties; citrus, full-bodied and heady fragrances with enamel relief decorations and 24K gold inspired by the Venetian eighteenth century in the seventies; and today, perfumes characterised by relaxing, woody and amber notes with gold and platinum decorations and embroidery, over bottles producing emotions to be felt and touched.
At present, the mastery and tradition handed down by the founder are pursued by the son, Paolo, at the modern laboratory. Rich in those teachings and accompanied with experts collaborators and "noses", Paolo develops essence research by creating undoubtedly precious objects until today, matching craftsmanship with olfactory fragrances, obtaining a top-level product of art perfumery.
Perfumes, of course, real distillates of emotions calling up memories, play with the unconscious and donate relax, joy and well-being. It is important for them to be persistent; for this reason, Paolo Gigli produces just eau de parfum with 15% of essence. Every customer chooses her/his fragrance depending on exclusive needs to feel fine, abreast of the times, and to leave a discreet, heady wake.
BOTTLE MANUFACTURING
The bottles are manufactured through an old as well as immortal and unique technique called three-firing process, securing perfect adhesion of glass and decorations. All our products, jewels of Florentine craftsmanship, have been decorated by hand by master craftsmen for morethan 60 years, through a manufacturing technique requiring great skill and a long time. Bottles are decorated exclusively by hand, always by means of mink hair brushes.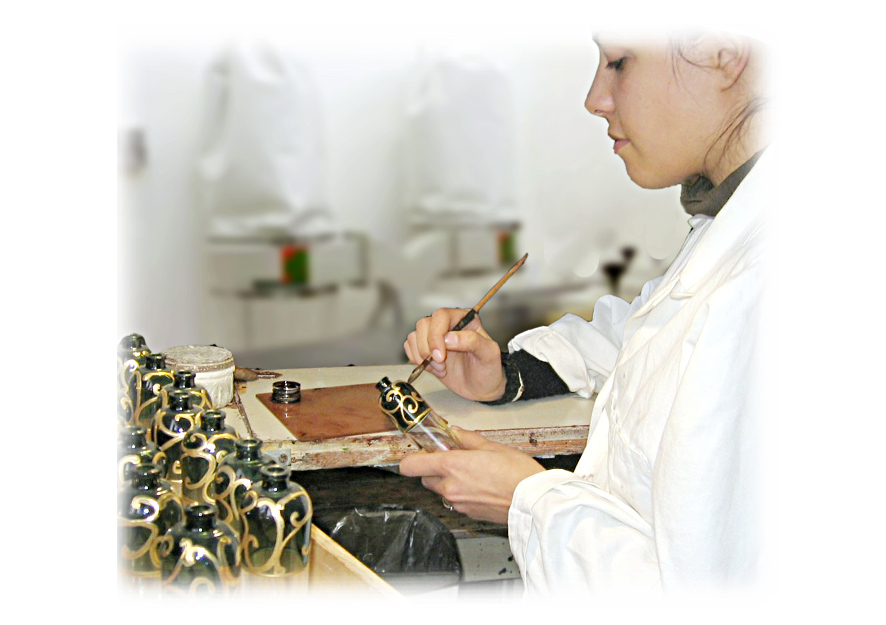 The manufacturing goes from firing of enamels and 24k liquid gold put on glass to a second decoration stage to obtain relief effects. It is a crucial stage needing great experience and extraordinary art skills; firing in special stoves at 550°C to get the result wished for. For those reasons every product of ours is unique, and just a luxury case may contain it.