---
FINAL TOUCH Eau de Parfum
The Final Touch line, blue for him and red for her, incarnates an extra touch of grace before going out, in order to give the person that wears it extra brio and a strong sensual charge.
A citrus fruit agreement of precious fruity and woody notes, a young perfume that expresses class, exclusivity and luxury.
Final Touch for Man
Final Touch for Man
Final touch for man, with a touch of flowers and citrus fruits, the tone is created by an effervescent combination between geraniums with their sweet hint of cyclamen and the intense and fizzy hints of grapefruit and mandarin. The soft heart of black gooseberries thanks to the combination with the bitter note of lavender enhances the skin and creates a sensual pineapple perfume. Deep down, the final touch of precious ebony wood thanks to the energy of the grey amber transported into an unreal atmosphere in which seduction takes over everything.
Final Touch for Woman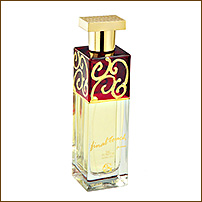 Final Touch for Woman
Final touch for woman, it lets out an increasing touch of flowers and citrus fruits, starting with the mimosa and crispy mint and followed by orange fl owers and jasmine. The heart is made from an attractive acclamation of romantic notes and fruity pineapple, all livened up by the fresh and spicy touch of carnations and the transgression and ether of Rum. With a mysterious and fascinating background just like an enchanted forest, vetiver and cedar wood provide a spicy, woody and amber touch: the white musk softens the senses and captures the olfactory senses with a vanilla effect.
Main fragrances of this collection: orange, rhum ether, white mosses, grape-fruit, currant buds, ebony wood, cyclamen, mandarin, lavander, pineapple, lelack, ebony wood, white musk, amber grey, jasmine, mimosa, orange blossom, curled mint, cinnamon, leaves, cloves, vetiver, cedarwood, vanilla and berry.
You may also like